OUR STAFF MEMBERS:
Sarah grew up here in Pocahontas County and then went off to conquer Harvard University. She graduated with honors with a BA in history with a focus on economic underdevelopment and a slew of theater experiences. She was a founding partner with Susan Burt in High Rocks and has been planning, teaching, counseling, fundraising, networking and building this place in one way or another since 1996. Sarah was named one of 40 under 40 emerging leaders in West Virginia in 2009. In 2014, WV Focus Magazine featured Sarah as one of West Virginia's "Wonder Women" in their premiere issue.  In 2015, the Appalachian Studies Association awarded Sarah the prestigious Helen Lewis Community Service Award for outstanding community service to Appalachia and its people.  Sarah was honored as a 2015 Zenith Award winner for exemplary service the Greenbrier Valley of WV.  In 2017, Sarah and the High Rocks were awarded the state WV Red Wagon Award for helping WV children, and in 2019 Sarah was honored with the Power of Performance Award for changing lives across southern WV.  Sarah has four children and lives happily on the family farm her husband grew up on, raising local meats, eggs and produce.  She is grateful to still be working with her mother, Susan Burt.
---
After teaching the "Gifted Program" in the Pocahontas County middle schools for 20 years, Susan decided to leave in 1996 to start a summer camp for girls that would help girls feel confident, beautiful and smart as they started high school. She worked with Virginia Steele and local loggers to figure out how to start this dream, by buying 200 acres and doing selective logging on the property. She enlisted many volunteers to help develop a girl-focused camp, and has taught Girls' Group to all entering girls for many years. In her free time she loves to ride her horse, play piano and guitar, and hang out with her six grandchildren.
---

SARAH MANSHEIM, DEVELOPMENT AND MARKETING MANAGER
Sarah Mansheim is a Pocahontas County native from Lobelia, WV. After a childhood of roaming the woods, she moved to the southern border city of El Paso, TX, at 14, spending her high school years living in that ethnically diverse, desert city just across the Rio Grande from Juarez, Mexico. Sarah earned her Bachelors of Arts in English with an emphasis in Creative Writing from the University of New Mexico in Albuquerque before returning to her West Virginia home. Here, she served the community as a newspaper editor and columnist while raising two daughters. Sarah is honored to join the High Rocks team as Development and Marketing Manager, doing her part to further the High Rocks mission.
---

DEVIN PRESTON, HUB PROGRAM MANAGER, K-12 PROGRAM LEADER
Devin Preston has been with High Rocks in various capacities since 2010, as a camp teacher, AmeriCorps volunteer, High Rocks parent, part-time staff member, and now, as manager of The Hub. He fervently believes in the mission of High Rocks and how it is vital in making West Virginia a viable place for young people to live, work, play, and stay.  His degree from Bluefield State is concentrated in History, Psychology, and English (because he couldn't seem to pick just one), and while Devin grew up in Greenbrier County, he's spent several years living in Florida, Alaska, and his beloved hometown of Seattle.  Although he's never learned how to actually juggle, he does a pretty good job juggling his time with High Rocks with the other facets of his life as a performance artist, writer, movie theatre manager, husband, and father to four. He'd really like to add lead singer for a rock band to that list, so let him know if you're looking!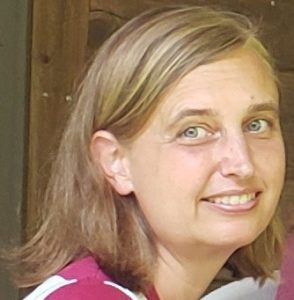 Karline Jensen received a B.A. in math from Oberlin College in 1997, where she also studied anthropology and the interactions between human cultures and their environments.  She then spent four years as the Production Manager growing organic vegetables with college interns for Maysie's Farm Conservation Center Community Supported Agriculture in Glenville, PA, before building her off-the grid straw bale house here in Pocahontas County.  She is so happy to have found a home in the wild mountains she could only dream of in her Chicago suburb childhood.  High Rocks has been a family to her and she is proud to be investing her career in helping to build the dream of a culture of leadership and acceptance for young people in West Virginia.
---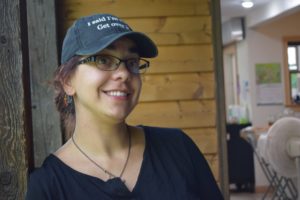 Renae (Anderson) Hall moved to West Virginia and entered High Rocks as a girl in 2002 and grew immensely by participating in the different programs that High Rocks offered. She graduated from Pocahontas County High School and continued her education as a first-generation college student at Alice Lloyd College, where she majored in Social Science with a minor in Sociology. After graduating she returned home to West Virginia where she was given the opportunity to give back to the organization that had given her so much by serving two years as an AmeriCorps volunteer and then becoming a permanent staff member. She is so excited to work at a place that has such a powerful impact on every life we touch.
---

DANA CUTLIP, HIGH ROCKS ACADEMY MANAGER
Dana grew up in Hillsboro, WV, and is a product of Pocahontas County schools.  After graduation, she attended and graduated with a bachelor's degree from Fairmont State College in Criminal Justice and Sociology. After working for a few years, Dana moved to Baton Rouge, Louisiana in 2006 to attend Louisiana State University where she gained her Master Degree in Social Work and fell in love with Louisiana and her people. Moving back to Charleston WV, Dana continued to work with at-risk youth before returning to Hillsboro and the mountains and rivers of Pocahontas County in May of 2017 to join High Rocks. Outside of work, Dana loves spending time with the people she loves, her fur babies, and her parent's goats. It's rumored that she has never met a stranger, and that she loves to travel. Dana has worked with a multitude of different populations of people, She's thrilled to be part of the magic and opportunity that is High Rocks!
---

JANET SWIFT, AMERICORPS PROGRAM MANAGER
Original natives of the Washington, D.C. area, Janet and her husband moved to Greenbrier County, West Virginia from Vermont in 2005 seeking the rural mountain life they love in a climate with a bit less winter.  With an early background in for–profit management and finance, she discovered a passion for non-profit work here in the Greenbrier Valley.  She has been an enthusiastic volunteer over the years and has enjoyed donating time to activities such as reading for the blind on NPR, teaching adults to read with a Literacy program, and serving on a number on non-profit boards.  As a mother to four children and grandmother to seven, she is committed to the High Rocks mission to educate, empower and inspire young people.  In her free time she enjoys traveling, gardening, sewing, and spending time with family and friends.
---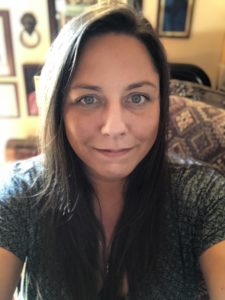 Samantha was born and raised in Pocahontas County and has been part of the High Rocks program since 1997 where she acted as a member, a junior counselor and a junior board member.  After graduating from Pocahontas County High School in 2001 she attended West Virginia University where she obtained a Bachelor of Science in Business Administration with a focus on Accounting as well as a Master of Arts in Public Administration.  After college she entered the workforce as a Financial Analyst working with government contracts and then created and co-owned her own company for many years.  For many years she served on the High Rocks Board of Directors until stepping down to compete for a position on the High Rocks staff.  When she's not busy working with the First2 Network coordinating college students across the state of WV she enjoys creating hand made home decorations, traveling with her husband, and snuggling with her nieces and nephews.
---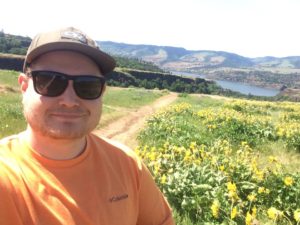 Casey grew up in Edray, WV and graduated from Pocahontas County High School.  After high school he earned a B.S. degree in Environmental and Energy Resources Management at WVU.  In 2016 Casey headed west to spend the next three and a half years in Oregon and Washington.  There, he helped manage a national visitor use monitoring program on public land, covering 11 National Forests.  Now that Casey is back in the mountain state, he is excited to be home around his family and to help serve and grow the communities of Appalachia.      
---

CINDY BURKS, ADMINISTRATIVE ASSISTANT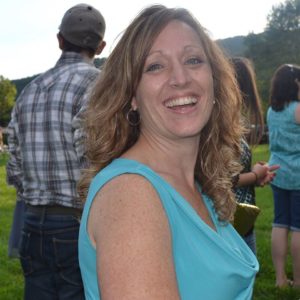 Cindy Burks is a lifelong resident of Pocahontas County.  She graduated from Pocahontas County High School in 1994.  Cindy has worked in clerical and administrative settings for over 20 years in the county including in banks, medical offices, and the county clerk's office.  Cindy brings a smile and great organizational skills to help keep all the High Rocks systems on track everyday, and is a critical lynchpin in the High Rocks business. Cindy has been a parent volunteer for the last 15 years in school activities, 4-H, with her church youth group.  Cindy is an active community volunteer, taking lead on numerous fundraisers and community events.  Cindy is a wife and a mother of two boys and a teenage girl, and spends most of her weekends with her family traveling the rodeo circuit.
OUR BOARD
OUR BOARD MEMBERS:
PRESIDENT, Anita Snyder
High Rocks Parent,  White Sulphur Springs, WV
VICE-PRESIDENT, Moniefia "Mo" Maitland
Consultant, Berry-Dunn-Government Consulting Group, High Rocks alumna, AmeriCorps alumnae, Charleston,WV
SECRETARY,  Sharon Vance


Retired Teacher, Pocahontas County High School

, Frankford, WV
TREASURER, Katherine Thompson


South 

Enotah

Child Advocacy Center, Executive Director, AmeriCorps VISTA alumnae, Gainesville, GA

MEMBER-AT-LARGE, Kacie Parsons
Animal Care Technician, High Rocks alumna, High Rocks AmeriCorps alumnae, Hagerstown, MD
MEMBER, Rhonda Withers, Director of Human Resources, Burns Motor Freight, Marlinton, WV
MEMBER, Maribeth Saleem-Tanner, Director of Civic Engagement, Marietta College, Former Co-Director, High Rocks AmeriCorps VISTA alumnae, Williamstown, WV 
MEMBER, Ray Creager, Software Engineer, Green Bank Observatory, High Rocks Parent, Green Bank, WV
MEMBER, John Norman, Manager, External Affairs, FirstEnergy, Spencer, WV
MEMBER, Tily Stanley, Trauma Data and Research Specialist, Thomas Jefferson University Hospital, High Rocks AmeriCorps alumnae, Capon Bridge, WV
HONORARY MEMBER, Jolie Lewis, Writer, Associate Provost and Dean of Student Success, Emory and Henry College, High Rocks AmeriCorps VISTA alumnae, Marion, VA
HONORARY MEMBER, Sean Brain, IBM Security Products, Lewisburg, WV
HONORARY MEMBER, Bill Lenherr, High Rocks Parent, Owner, Greenbrier Technologies, Lewisburg, WV