OUR STAFF MEMBERS:
Sarah grew up here in Pocahontas County and then went off to conquer Harvard University. She graduated with honors with a BA in history with a focus on economic underdevelopment and a slew of theater experiences. She was a founding partner with Susan Burt in High Rocks and has been planning, teaching, counseling, fundraising, networking and building this place in one way or another since 1996. Sarah was named one of 40 under 40 emerging leaders in West Virginia in 2009. In 2014, WV Focus Magazine featured Sarah as one of West Virginia's "Wonder Women" in their premiere issue.  In 2015, the Appalachian Studies Association awarded Sarah the prestigious Helen Lewis Community Service Award for outstanding community service to Appalachia and its people.  Sarah was honored as a 2015 Zenith Award winner for exemplary service the Greenbrier Valley of WV.  In 2017, Sarah and the High Rocks were awarded the state WV Red Wagon Award for helping WV children, and in 2019 Sarah was honored with the Power of Performance Award for changing lives across southern WV.  Sarah has four children and lives happily on the family farm her husband grew up on, raising local meats, eggs and produce.  She is grateful to still be working with her mother, Susan Burt.
---
After teaching the "Gifted Program" in the Pocahontas County middle schools for 20 years, Susan decided to leave in 1996 to start a summer camp for girls that would help girls feel confident, beautiful and smart as they started high school. She worked with Virginia Steele and local loggers to figure out how to start this dream, by buying 200 acres and doing selective logging on the property. She enlisted many volunteers to help develop a girl-focused camp, and has taught Girls' Group to all entering girls for many years. In her free time she loves to ride her horse, play piano and guitar, and hang out with her six grandchildren.
---
Devin Preston has been with High Rocks in various capacities since 2010, as a camp teacher, AmeriCorps volunteer, High Rocks parent, part-time staff member, and now, as manager of The Hub. He fervently believes in the mission of High Rocks and how it is vital in making West Virginia a viable place for young people to live, work, play, and stay.  His degree from Bluefield State is concentrated in History, Psychology, and English (because he couldn't seem to pick just one), and while Devin grew up in Greenbrier County, he's spent several years living in Florida, Alaska, and his beloved hometown of Seattle.  Although he's never learned how to actually juggle, he does a pretty good job juggling his time with High Rocks with the other facets of his life as a performance artist, writer, movie theatre manager, husband, and father to four. He'd really like to add lead singer for a rock band to that list, so let him know if you're looking!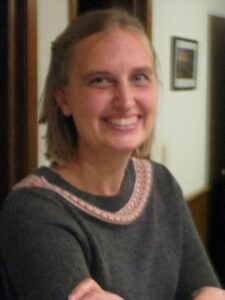 Karline Jensen received a B.A. in math from Oberlin College in 1997.  She then spent four years as the Production Manager growing organic vegetables with college interns for Maysie's Farm Conservation Center Community Supported Agriculture in Glenville, PA.  Karline has been running the business side of the High Rocks office since 2008.  She enjoys hiking and spending time outdoors with her family.
---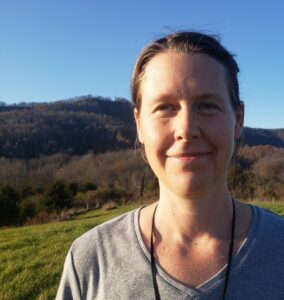 Originally from Winchester, VA, Keveney and her husband, Luke, moved to his WV family farm in 2004. After graduating from Virginia Tech in English, Keveney worked for various non-profit organizations for over 15 years in administration and management. Having grown up on an apple orchard, her childhood set the stage for her love of farming and good food. This led her and her family to cultivate and raise vegetables, herbs, heritage
pork and eggs on their farm for over 10 years. In 2015, Keveney launched Redwing Soup, which she operated for 5 years. She is excited to be part of High Rocks and to continue to serve her community and especially the younger generation.
---
AMBER MCCLURE, HIGH ROCKS ACADEMY MANAGER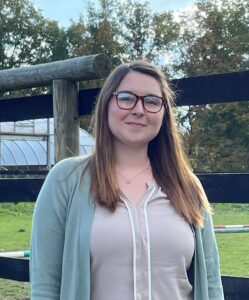 Amber is a West Virginia native who grew up in Pocahontas County. Her journey with High Rocks began the summer of 2009 when she attended New Beginnings camp. After high school, Amber joined the workforce and later went on to graduate from West Virginia University with a B.A. in Criminology. Amber moved back to Pocahontas County in the Spring of 2021 and found her way back to High Rocks by serving through AmeriCorps. She went on to become a staff member after realizing how much of an impact she could continue to make on her community and on young people in West Virginia. Amber is dedicated to creating positive change and hopes to continue growing during her time as a staff member. In her spare time, Amber enjoys spending time with loved ones, being outdoors, reading and traveling.
---
JANET SWIFT, AMERICORPS PROGRAM MANAGER
Original natives of the Washington, D.C. area, Janet and her husband moved to Greenbrier County, West Virginia from Vermont in 2005 seeking the rural mountain life they love in a climate with a bit less winter.  With an early background in for–profit management and finance, she discovered a passion for non-profit work here in the Greenbrier Valley.  She has been an enthusiastic volunteer over the years and has enjoyed donating time to activities such as reading for the blind on NPR, teaching adults to read with a Literacy program, and serving on a number on non-profit boards.  As a mother to four children and grandmother to seven, she is committed to the High Rocks mission to educate, empower and inspire young people.  In her free time she enjoys traveling, gardening, sewing, and spending time with family and friends.
---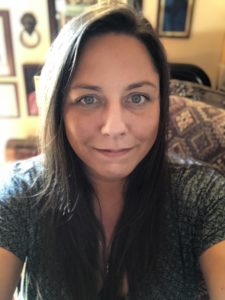 Samantha was born and raised in Pocahontas County and has been part of the High Rocks program since 1997 where she acted as a member, a junior counselor and a junior board member.  After graduating from Pocahontas County High School in 2001 she attended West Virginia University where she obtained a Bachelor of Science in Business Administration with a focus on Accounting as well as a Master of Arts in Public Administration.  After college she entered the workforce as a Financial Analyst working with government contracts and then created and co-owned her own company for many years.  For many years she served on the High Rocks Board of Directors until stepping down to compete for a position on the High Rocks staff.  When she's not busy working with the First2 Network coordinating college students across the state of WV she enjoys creating hand made home decorations, traveling with her husband, and snuggling with her nieces and nephews.
---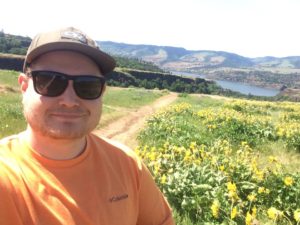 Casey grew up in Edray, WV and graduated from Pocahontas County High School.  After high school he earned a B.S. degree in Environmental and Energy Resources Management at WVU.  In 2016 Casey headed west to spend the next three and a half years in Oregon and Washington.  There, he helped manage a national visitor use monitoring program on public land, covering 11 National Forests.  Now that Casey is back in the mountain state, he is excited to be home around his family and to help serve and grow the communities of Appalachia.      
---
---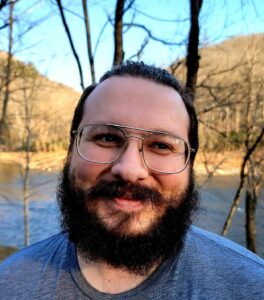 Stephen Jackson moved to West Virginia from Missouri after graduating from the University of Central Missouri (UCM) with an M.A. in Speech Communication. Stephen gained a lot of experience while at UCM, where he taught as a graduate teaching assistant while completing research in areas related to student biases in learning and workforce discrimination among female business owners. Stephen was recognized for his efforts as a graduate student with the Midwestern Association of Graduate School, excellence in teaching award. Stephen left Missouri to continue his education at West Virginia University in the Instructional Communication program. He spent a year continuing to develop his skills as a graduate teaching assistant. After a year in the program, he felt a calling to take a step back from academia to work with disadvantaged and troubled youth. Stephen discovered a passion for working with young people and helping young West Virginians see their potential. Stephen has been able to connect the dots from his various experiences by joining the High Rocks team as the WV Jobs Network Manager Stephen enjoys being able to explore the outdoors, spend time with his family, and read science fiction when he can.
---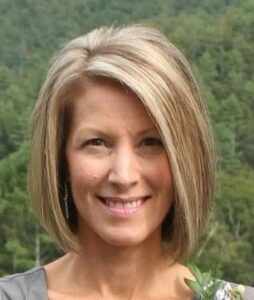 Harriet is new to High Rocks and has been a lifelong resident of Pocahontas County. Harriet earned her Bachelor of Science in Business Administration with a concentration in Accounting and was excited to start utilizing her degree at High Rocks. Harriet previously worked for over 20 years at the WV State Police office before taking off time to expand on her catering business. She is also looking forward to using her kitchen skills to help out across the organization. Harriet enjoys camping, boating, baking, gardening, and spending time with her family.
OUR BOARD
PRESIDENT    
Margaret Falletta
Director of Counseling and Wellness Services, Davis & Elkins College 
High Rocks Intern, AmeriCorps and Staff alumnae 
Elkins, WV 26241 
VICE-PRESIDENT 
Stacy Thomas 
Community Coaching Program Lead, WV Hub  
Richwood, WV  
TREASURER 
Maribeth Saleem-Tanner  
Former Co-Director, High Rocks AmeriCorps VISTA alumnae 
Executive Director, Community Food Initiatives  
Williamstown, WV 26187 
SECRETARY 
Sarah Guyette 
Vice-President, Marketing, Snowshoe, High Rocks Alumna 
Snowshoe, WV 26209 
MEMBER-AT-LARGE 
Tristan Nutter 
High Rocks AmeriCorps alumnae, High Rocks Parent 
White Sulphur Springs, WV 24986 
PRESIDENT EX-OFFICIO 
Moniefia (Mo) Maitland 
High Rocks Alumna 
BerryDunn - Government Consulting Group, Consultant 
South Charleston, WV 25303 
John Norman
Manager, External Affairs, FirstEnergy 
Spencer, WV 25276 
Anita Snyder
High Rocks Parent 
Lewisburg, WV 24901 
Sharon Vance 
Retired Teacher, Pocahontas County High School 
Frankford, WV 24938 
Courtney Susman 
NewForce Coordinator, Generation West Virginia 
Lewisburg, WV 24901 
Kim Beard 
Financial Advisor, Edward Jones 
Lewisburg, WV 24901 
HONORARY MEMBERS
Bill Lenherr 
High Rocks Parent 
Owner, Greenbrier Technologies 
Lewisburg, WV  24901 
Jolie Lewis, MFA 
Writer, Associate Provost and Dean of Student Success, Emory and Henry College  
High Rocks AmeriCorps VISTA alumnae 
Marion, VA 24354 
Sean Brain  
IBM Security Products 
Lewisburg, WV 24901 
Katherine Thompson
South Enotah Child Advocacy Center, Executive Director 
Gainesville, GA 30501 
Tily Stanley
Trauma Data and Research Specialist, Thomas Jefferson University Hospital 
High Rocks AmeriCorps alumnae 
Harpers Ferry, WV 25425