"The past year has been one of tremendous personal growth for me.  I'm so grateful for the AmeriCorps experience." – High Rocks AmeriCorps Member
Serve Communities
     Many people have heard of the Peace Corps. AmeriCorps is a domestic version of the Peace Corps in which you can spend a year or longer in service to your country, working in low-income communities and improving outcomes for our citizens. AmeriCorps includes AmeriCorps State and National, VISTA, and the National Civilian Community Corps. 
A year of AmeriCorps service can change the lives of the people that you serve and can also change your life as well. By serving as an AmeriCorps member, you can build your resume, gain professional skills, develop your leadership, and experience personal growth. You can also earn money to use for school or to pay off qualified student loans. Health care, child care, and more are available to support AmeriCorps members. You can even earn an affordable master's degree while serving!
Learn about our AmeriCorps position openings across the state and apply now, or learn more by reading a sample road map of a member's year of service activities.
Interested in becoming a partner site? Learn more. Already a partner or AmeriCorps member? Find partner resources.
Currently a member?  Find member resources.
"It is a privilege to help those in need in the community and I continue to learn from each experience." – High Rocks AmeriCorps member
Why to Serve: Be the Greater Good
Check out this inspiring video about AmeriCorps service across the country.
Why Do We Need AmeriCorps Members?
     Why do we see a need for AmeriCorps here at High Rocks? Young people in West Virginia often grow up in communities with high rates of poverty, poor health, and academic disengagement, a history of resource extraction, environmental degradation, and limited civic involvement. Additionally, negative stereotypes about the region double-down to hide community strengths and positive shared history and identity.
     Under these circumstances, young people are at risk for low self-esteem, self-harming behaviors including opioid addiction, academic refusal, ongoing economic insecurity, and a sense of powerlessness. High Rocks believes that such outcomes arise from a lack of learning and engagement to empower young people to work together to improve their lives and communities. Young people bring natural strengths to the table including courage, excitement, openness, and fresh ideas. 
     Our theory of change is that if youth, young adults, and community organizations engage in positive multi-directional relationships to build learning, leadership, wellness and community engagement, then young people will experience improved self-efficacy, problem-solving skills, and persistence. Because of the relationships and skills thereby developed, young people will become educated, empowered, and inspired to take charge of their lives, health, and hometowns. 
     Working together, young people and community members will develop initiatives that contribute to educational attainment, economic self-sufficiency, community resilience, and environmental harmony, while honoring the strong community ties, natural beauty, and rich heritage of our state.
     As an example, one of our members writes: "At our AmeriCorps training in September we were asked to set a goal for our year of service. Mine was to come out the other end with at least two sustainable programs that could continue after I leave. I am thrilled to report that it's going to happen. Through partnerships and invaluable volunteers, I have found people that have agreed to take leadership positions in the teen book club at Marlinton and Budding Bookworms at Marlinton. It fills me with joy to know that these programs will go on without me. I'm so proud of the teens in the book club and how much they've changed since we started."
     We have four focus areas: education, leadership, health and wellness, and community engagement through volunteerism.  Through development of leadership and self-efficacy, young people are more likely to persevere in the face of obstacles. Academic engagement will lead to life-long learning. Wellness interventions will build  improved attitudes about wellness, leading to improved wellness measures. We believe that healthy bodies and healthy minds enable people to flourish in the other aspects of their development. Through community engagement and volunteerism, we are able to increase the capacity of local grass-roots organizations to help meet the needs of our students and our communities.
About the AmeriCorps Program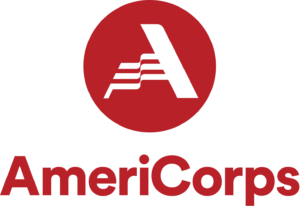 AmeriCorps is a network of local, state, and national service programs that connects over 70,000 Americans each year, engaging adults in public service work with a goal of "helping others and meeting critical needs in the community." Members commit to full-time or part-time positions and serve in full or part-time positions over a 3-12 month period. Upon completion of their service, members receive a Segal AmeriCorps Education Award to pay for college, graduate school, or to pay back qualified student loans. Members who serve part time will receive a partial education award. Members also receive a modest living allowance depending on the terms of their service. Full time members have access to other benefits such as: health insurance, child care, training, and student loan forbearance during their service. Less tangible benefits include professional skill development and work experience.