Connecting talented job seekers to employers in the Mountain State
What is the WV Jobs Network
Young people in West Virginia believe there are not opportunities for them in the state. At the same time, employers with good jobs in West Virginia struggle to find applicants. This problem keeps talent and opportunity from meeting.
High Rocks is leading a statewide network - the WV Jobs Network - with our partners at Generation WV, Coalfield Development, First2 Network, and Bristol's Promise (Appalachia's Promise) to begin to support and connect young talent with employers, developing a workforce pipeline that works for everyone. Do you want to become a partner with the WV Jobs Network? Contact us at info@highrocks.org
---
Common Agenda
A collective vision, a shared strategy: The WV Jobs Network takes a collective impact approach to tackling workforce development and filling good jobs head-on. We are a collaboration of cross-sector members whose goal is to address a common agenda to better connect quality job seekers to livable jobs.
Join us by getting involved or learn more, contact us at info@highrocks.org.
---
Measuring Success
Shared metrics: The WV Jobs network has identified seven key indicators for success of the collective vision – job seekers served and improved, employers served and improved, as well as jobs created, filled, and retained in West Virginia. These measures will help us evaluate what is working and ways the network can learn and improve the lives of job seekers and employers across the state.
Aligned Activities 
---
Employer support: The WV Jobs Network will be interviewing employers about their workforce successes and needs, and bringing employers and job seekers together at our conference to learn from one another. The WV Jobs Network will offer services to help build employers' capacity for hiring, training, and resources for employees through the Generation WV Career Connector.
Generation WV's Career Connector will offer services to employers with open job postings and provide job readiness support to job seekers in order to create a competitive, customized pool of top applicants. The WV Jobs Network will provide access to the Appalachia Connect program which will provide employers with a new class of employee benefit that helps employees find and use the community resources they need. This model is proven to help with employee retention and performance to ensure growth within the workforce and applicant pools. The WV Jobs Network also is working to ensure there will be quality training and certification programs for employers across the mountain state. The WV Jobs Network will facilitate sharing of employer best practices, policies, and resources to assist in improving our community together.
Job Seeker Support: The WV Jobs Network will provide several avenues of support for job seekers who enter the network. Across the various partners and depending on where a job seeker is in their path toward a livable job there will be opportunities for on-the-job training through Coalfield, High Rocks, First2 Network, and AmeriCorps program across the state. Career service opportunities such as resume support and interview preparation and support will be available through the Generation WV Career Connector. The Career Connector will also house a resume database which will keep job seekers' resumes available for future relevant opportunities. The WV Jobs Network would continue to support job seekers through plenty of other career and life coaching opportunities to meet them where they are at as well as provide ongoing training, professional development and certifications so that all pathways to a livable job is accomplished.
CURRENT INITIATIVES & ACTIVTIES
Generation West Virginia Career Connector: The GWV Career Connector will support local job seekers and employers in order to increase access to opportunity in West Virginia by helping to align existing skill sets with employer needs. This workforce development hub, powered by Generation WV, will support job seekers by providing job readiness support that's needed to find and build fulfilling careers in West Virginia. The Connector serves as a pathfinder in a changing career landscape for both job seekers and employers throughout the state.
Workforce training and Social Enterprise Mindset:  The Network will foster entrepreneurial activities by teaching people in our social enterprise workforce training programs not only the task skills needed for day-to-day business operations through on-the-job trainings, but will create a training program to develop entrepreneurial thinking through a social enterprise mindset - learning to see their business training program through the triple-bottom line of people, profit, and place.
Power Skills Certification program: Power Skills refers to the key combination of teamwork and leadership skills employers need more of in their employees. The WV Jobs Network is currently undergoing the development of a curriculum and certification that has identified these skills as the must haves to be successful in the workplace. The first pilot will be among AmeriCorps, Social Enterprise Learning and Earning positions, and First2 Network students within the jobs network this fall.
Appalachia Connect: We are working with Bristol Connect (Appalachia Connect) workforce sustainability model here in the Mountain state. Appalachia Connect works with employers to provide human-to-human assistance for workers by meeting them where they are and navigating the resources they need to be successful at home so that they can bring their best self to work.
Do you have some aligned activties or initatives that might overlap with our current work? Please get involved or tell us by contacting us at info@highrocks.org
---
Continuous Communication 
Networking and Conferences: The WV Jobs Network will host an in-person conference with the goal to convene the network, industry, and job seekers in a single place. This will allow for the network to deepen the potential of all involved in developing a strong workforce together here in the Mountain State.
Strategic Development: The WV Jobs Network has collaborated on other efforts amongst anchor partners for expansion of workforce development activities across the current network partners. This will allow for the network to learn, grow, and expand as the network begins developing the wrap-around services for a successful WV Jobs Network workforce pipeline.
---
WV Jobs Network Partners 
WV Jobs Network anchor partners include High Rocks, Coalfield Development, FIrst2 Network, Appalachia Connect, and Generation WV.
We are always looking for more partners. Want to join a network of partners who are trying to build a stronger workforce in West Virginia. To get involved or learn more, contact us at info@highrocks.org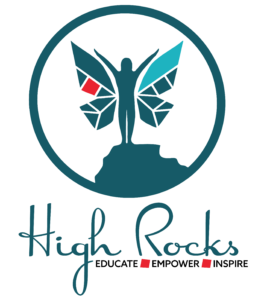 High Rocks is an award-winning organization focused on developing young people ages 12-29 into becoming leaders in the Mountain State. High Rocks has over 25 years building these Power Skills in their team members and has created its own teaching methodology that is experiential, transformational, and community-minded. Programs include two intensive educational summer camps for middle and high schoolers, a robust state-wide AmeriCorps program, three youth social entrepreneurships, and serving as a foundational partner organization in both the First2 Network and the West Virginia Jobs Network.
Coalfield Development is inspiring the courage to grow, activating the creativity to innovate, and cultivating communities of opportunity in central Appalachia through incubating and investing in well-paying employment social enterprises, facilitating personal, professional, and academic growth for people facing barriers to employment, advancing, completing, and/or managing community based revitalization projects, and designing and scaling new programs in emerging sustainable sectors.

The First2 Network is an expanding group of people and organizations across West Virginia that seeks to improve STEM persistence among rural, first-generation, and other underrepresented college students so that they – in turn – can contribute to an innovation economy in our State.

Bristol's Promise provides a workforce sustainability program that fosters an employer network centered on recruiting and retaining good employees for better engagement, better job satisfaction, and improved productivity. Through the provision of resource navigation, workers are connected with personalized resources and ongoing support in order to manage life challenges and allow them to bring their best selves to work.
Generation West Virginia is a

statewide organization for and by young people who understand that finding your path isn't always easy. We're working to ensure that every young person has the tools, resources, and connections needed to make a home for their dreams here in West Virginia.
---
Resources
---
Connect with the WV Jobs Network
As part of the Collective Impact, the WV Jobs Network will bring together partners and stakeholders from across the state to learn together and share what's working, as we all work to help people stay and thrive in West Virginia.
To get involved or learn more, contact us at info@highrocks.org
Thanks to the Appalachian Regional Commission and the Benedum Foundation for their support of this work.