DIRECTIONS TO HIGH ROCKS LODGE & CAMPGROUND:
— DO NOT TRUST GPS or GOOGLE !–

APPROACHING FROM LEWISBURG: Take Route 219 North through Hillsboro. At Millpoint, go LEFT on Route 39 West towards Richwood. You'll go about a mile on 39 W. Pass the Boxley quarry on the right. Pass a large brick house on your right and mini horse farm. Go past a gravel driveway on your right called Boyd Thompson Road. DON'T TAKE IT! Turn RIGHT on Thompson Road, a one lane, paved road. There is a cedar-sided house with a big screened in porch on the corner. (If you go too far, you'll pass the Stumblin' In Restaurant on your left). Follow directions from Thompson Road below.
APPROACHING FROM MARLINTON: Take Route 219 South to Millpoint. At Millpoint, go RIGHT on Route 39 West towards Richwood. You'll go about a mile on 39 W. Pass the Boxley quarry on the right. Pass a large brick house on your right and mini horse farm. Go past a gravel driveway on your right called Boyd Thompson Road. DON'T TAKE IT! Turn RIGHT on Thompson Road, a one lane, paved road. There is a cedar-sided house with a big screened in porch on the corner. (If you go too far, you'll pass the Stumblin' In Restaurant on your left). Follow directions from Thompson Road below.
APPROACHING FROM RICHWOOD: Take 39 East towards Marlinton. Most people call it Marlinton Road. After you pass the Cranberry Visitor's Center and come down Kinnison Mountain, you will pass the Stumblin' In on your RIGHT. Go approximately 1 mile further. Turn LEFT on Thompson road (paved), and follow the directions from Thompson Road below. (If you get to a gravel road called Boyd Thompson Road or the intersection with Route 219, you've gone too far.)
Once you turn onto Thompson Road, come straight up the black top for about 1.5 miles. Several gravel roads/driveways will fork off to the right. Stay to the LEFT on the hard road. The blacktop will end at a row of black mailboxes. Continue straight over the rise. The road will now be gravel.
If you are coming to the lodge (our offices): At the fork past the mailboxes, bear LEFT across the creek culvert, and wind up the driveway to the top. You will pass a horse arena on your left. The lodge is a large, two-story cedar-sided building you'll see on the right. Just follow the driveway around the farmhouse and to the lodge.
If you are coming to the campground: At the fork past the mailboxes, bear RIGHT and continue up to the campground. You'll cross two creeks. (And yes, you can make it fine in a 2-wheel drive vehicle, but don't bring your mint 1970 super-low rider TransAm.) The driveway will be on your left, through a farm gate. If you go too far, you'll dead end at a locked gate to forest service land.
DIRECTIONS TO THE HUB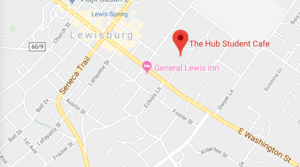 The Hub is located at the old Lewisburg Elementary School complex, now known as Lee Street Commons. The building is between Lee Street and Hollowell Park. If you are driving, you will arrive via GMS Drive. If approaching from Dwyer Lane, you'll make a left into Lee Street Commons just past the Hollowell Park city parking lot. If you're approaching from Lee Street, you'll make a right into the commons just before the Hollowell Park city parking lot.
Parking is available in front of The Hub, Building C.