Enrichment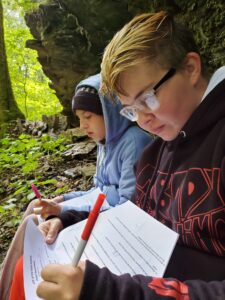 Throughout the school year, we invite High Rocks participants to our Lodge in Hillsboro, The Hub in Lewisburg, and Steele Studio in Richwood for academic enrichment. They arrive after school and enjoy a healthy dinner or snack before attending an academic workshop or receiving tutoring for their studies from staff or community volunteer tutors. We also offer small group sessions for the Youth Advisory Board, college access assistance, and ACT/SAT test preparation.
We encourage participants to contact High Rocks whenever they need academic assistance. We will always work with participants to schedule tutoring sessions, test or exam preparation and help with college applications on a one-on-one basis as needed.
"In every role I have experienced at High Rocks, no position is less transformational than another. I have gone from a shy eighth grader with a future plan of living with my mother and working as a waitress to a confident college graduate who gets to tell the story of High Rocks every day. High Rocks helped me realize the future that I wanted and then gave me the tools I would need to achieve that future." – High Rocks Participant
Mentoring
High Rocks participants interact with a group of supportive staff and community mentors who are invested in the success of everyone who participates in our program. You often find staff calling participants at home to check-in about their college essay, having a coffee with them after school, or taking a bunch of participants to a weekend service event. You find participants calling staff when they need help on a homework assignment or when they get an A on a test.
The mentor relationships that happen here take many different forms. For instance, interns form teaching relationships with experienced instructors and strive to learn from one another. Similarly, new High Rocks participants are mentored by Junior Counselors — those who have participated in previous programming. These older participants also serve on the Youth Advisory Board and as alumni who return to High Rocks as volunteers, interns, and staff. Young women who once studied in our staff's math and writing classes are now, as young adults, their consultants and bosses!
"I was convinced that I didn't deserve the opportunity to have an amazing career because of where I came from. The staff at High Rocks showed me that I was wrong; they showed me how to look inside myself and see that I was good enough, that I can do anything." - High Rocks Participant
Overnights
Throughout the school year, High Rocks participants come together at the Lodge, The Hub, or Steele Studio for a massive slumber party. Overnights typically occur on the weekend and include games, food and High Rocks family reunions. Each overnight has a different theme and often includes a service or activity component — volunteering at a race, hosting a High Rocks information table at a festival, or attending a conference. 
For more information on upcoming overnight dates, please see our calendar.
COLLEGE ACCESS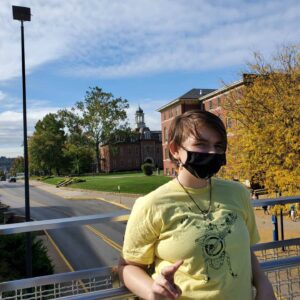 We know that higher education needs to be more accessible to young people from this region of Appalachia. We believe in challenging youth to think expansively about the possibilities for the future and to invest in making clear and thoughtful decisions about where they want to go and what they want to do.
High Rocks provides individualized mentoring and academic resources to help the young people we work with build the emotional strength and academic skills needed to be successful college applicants and enrolled students. We offer standardized test preparation and help participants prepare their college applications and essays. We lead college trips every year to a variety of schools all over the east coast. For more information on upcoming college trip dates, please see our calendar. We also make it a priority to assist our participants in figuring out how to pay for college, and offer several college scholarships.
We understand that college is not for everyone so we also provide help in finding gap year programs and college alternatives.  
"Without the strong foundation that High Rocks has given me, I would not have made it through my first semester. I came to college with a more open and outspoken mind." – High Rocks Alum